Special Watertight Outdoor Cremation Urns by Caskets Direct
By: Caskets Direct On: 10 September 2014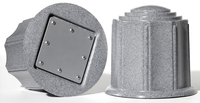 New to Caskets Direct!
Cremation urns for the garden. These urns have been made for outdoor use and are watertight. Our watertight urns have been carefully engineered from plastic to look like stone. These urns will not chip like stone and will withstand the elements.
Our watertight outdoor urns are perfect for burying in the ground. No special vault is required.